Decofloor™ Quartz Aggregate System
Quartz Resinous Flooring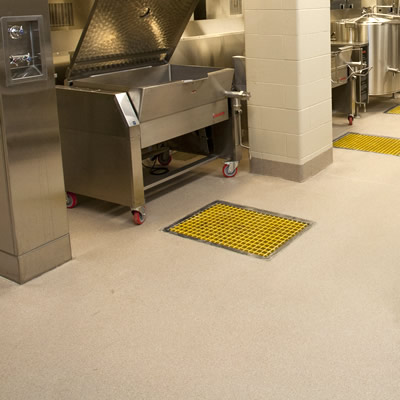 Decofloor Quartz System is a broadcast coating system that combines a decorative appearance with excellent chemical, stain and wear resistance. This solvent free polyurethane system creates a dense, stain resistant surface, and involves the use of a new "green chemistry". Unlike tradi-tional coating systems, the Decofloor System contains no harmful VOC's making it VOC compliant in all 50 U.S. States. In addition, over 35% of the polymer coating system uses a formula that includes a new renewable raw material, modified vegetable oil, as opposed to standard petroleum-based materials.
Typical Uses of Quartz Resinous Coating
Decofloor System is recommended for use as coatings in garages, schools, institutional facilities, shower systems, locker rooms, workshops, hallways, offices and gathering areas, and has been used in multiple industries such as: healthcare/hospitals, schools, warehouses, commercial garages, hangars or any other high use areas, and can be used on vertical and horizontal surfaces as well.
Because of it's slip resistant properties, the Decofloor Quartz System is ideal for showers, kitchens, locker rooms, sally ports and other "wet" areas.
Call us at 239-303-7380 or fill out a quick form online to request a free quote on your floor coating project. We look forward to hearing from you!