Staying in the "LEED"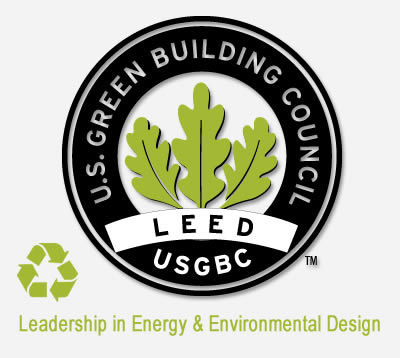 LEED Green building is no longer just a fad or on the fringe of the industry. It is mainstream, and has been accepted and embraced by the architectural community as well as owners and contractors across the country.
What is LEED?
LEED (Leadership in Energy and Environmental Design) is simply a building rating system that places values on certain design, materials and building criteria. The points assigned for green building benchmarks in design, materials and practices are tallied and the structure is given a rating. Highly rated structures may provide owners with huge advantages when it comes to time to market or the occupancy date. So achieving a high score is not only ecologically sound but also economically viable.
Decofloor flooring systems have the potential to contribute to new construction certification based on the LEED-NC v2.2 rating system. There are 69 possible points of which Decofloor may contribute up to 6 points based on materials and indoor environmental quality.
Decofloor Green Building Qualities
Decofloor is on the forefront of environmentally friendly building techniques and is well aware of the ever increasing demand for greener products.
Our products use advanced polyurethane technology formulated with 100% solids. And unlike traditional coating systems, our coating system contains no harmful VOCs (Volatile Organic Compounds), making it VOC compliant in all 50 states. In addition, over 35% of the polymer coating system uses a formula that includes a new renewable raw material, modified vegetable oil (castor oil), as opposed to standard petroleum-based materials.
Because our low-odor floor system contains no VOCs, they exceed Adhesives, Sealants and Sealant Primers: South Coast Air Quality Management District (SCAQMD) Rule #1168 for LEED certified buildings.
See all the specs and details relating to LEED products and how Decofloor can help with earning LEED points.